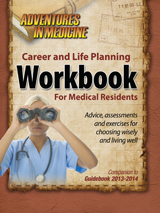 This Workbook is a companion to the 212-page Guidebook.
Its exercises and checklists work hand-in-hand with the Guidebook to help you increase your knowledge and create a customized plan for your future.
You'll find helpful cross-references to corresponding Guidebook content throughout the Workbook.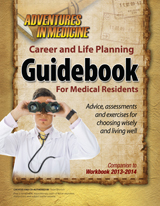 This 212-page Guidebook gives the physician detailed content, including,

Interviewing
Job Selection
Contract Negotiation
Finance Basics
Job Transition

Job Search Timeline
Market Trends & Trials
Compensation Packages
Life, Money, and Career Priorities
Search Strategy

This rich content will provide you meaning and purpose as you work through it's companion Career and Life Planning Workbook.
AIM's Career and Life Planning Online Resource Library includes more than 150 physician career development content that will help you complete the exercises and explore various topics in greater depth.
We encourage you to browse the Library, which we're constantly updating and expanding, in addition to accessing the resources that are cited in conjunction with specific Workbook exercises.